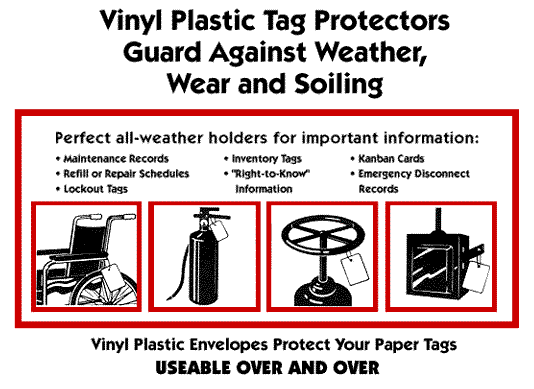 Ideal For Use On:

Chemical Containers & Tanks

Fire Extinguishers

Transformers

Wheel Chairs

Switchboxes

Machinery

Disconnect Switches

Valves

Palletized Containers

And other locations where permanent record tags are required.


8 Sizes Available

Delivery from stock

Carlton Industries manufactures and distributes Bedford Products vinyl plastic envelopes with brass grommets. These envelopes are designed to protect paper tags and cards outdoors and indoors.

Established in 1970, Carlton Industries is a family-owned and operated business. We take pride in the quality of our products and offer prompt, courteous attention to our customers' need.

If you wish to make an inquiry or request a catalog and sample click here.
Manufactured in the USA and Distributed by
Carlton Industries
Bedford Products from Carlton
P.O. Box 280 - La Grange, Texas 78945-0280
Phone (800) 231-5988 - Fax (979) 242-5058
bedfordproducts@carltonusa.com